$45.00
AUD
Category: Architecture & Design
Renovating or building your own home is one of the biggest investments (financially and emotionally) you can ever make. For years, the BuildHer Collective have helped women around the world make this a fun, rewarding and empowering experience. Led by dynamic Australian duo Kribashini Hannon and Rebeka M organ, BuildHer have created a movement. In this book, they're here to share their building expertise, for women of all experience levels. Whether you're contemplating a renovation, or are flipping your third property, this book is catered for varying levels of experience in building and construction. (Even those of us with zero experience!) Using case studies and stories from the BuildHer community, Kribashini and Rebeka show how anyone can achieve their goal and become an accomplished BuildHer. ...Show more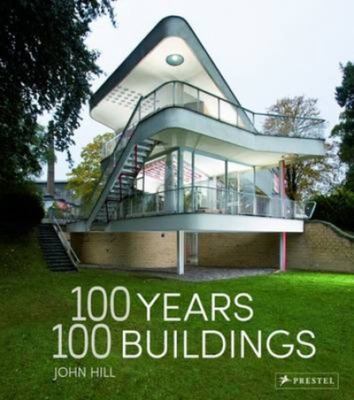 $69.99
AUD
Category: Architecture & Design
The founder of the blog A Daily Dose of Architecture, John Hill, is obsessed with his subject and determined to expose his fellow citizens to the glorious structures that shape our environment. In this beautifully designed compendium Hill presents his selection of the most significant building to be bui lt each year from 1916 to 2015. Each two-page spread includes one or two large color photos and text that explains the importance of each structure. Starting with H. P. Berlage's Holland House in London and closing with Diller Scofidio + Renfro's newly completed Broad museum in Los Angeles, Hill has combed the globe for iconic buildings. Notable inclusions are Helsinki Railroad Station; the Solimar Building in Cuba; Le Corbusier's Mill Owners' Association building in Ahmadabad, India; Habitat 67, a housing complex in Montreal; and Tadao Ando's Church of the Light in Osaka, Japan. What makes this collection so extraordinary is Hill's criteria for the buildings included: each must be able to be seen, approached, or explored by the average person.An introductory essay and a timeline that highlights important architectural events round out this engrossing survey that demonstrates the underlying themes and developments in the world of architecture today. ...Show more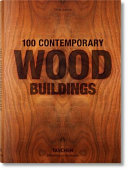 $40.00
AUD
Category: Architecture & Design | Series: Bibliotheca Universalis Ser.
Timberland: The wooden structures of the 21st century Not so very long ago, some might have considered wood a material of the past, long since replaced by more modern components such as concrete and steel. The truth is radically different. Bolstered by new manufacturing techniques and ecological benefit s, wood has seen a fabulous resurgence in contemporary construction.This double-volume survey explores how architects around the world have created and invented with this elementary material. Featuring follies, very large buildings, and ambitious urban renewal schemes, it celebrates the diverse deployment of wood from architects in China, Chile, and everywhere in between. We see how wood can at once transform urban spaces, as in the Metropol Parasol in Seville by J rgen Mayer H, and allow for sensitive interventions in natural environments, as at the Finnish Forest Research Institute by SARC Architects, or the Termas Geom tricas Hot Springs Complex by Germ n del Sol.True to all TASCHEN architecture tomes, the book pays tribute to many emerging international talents, as well as to such renowned figures as Tadao Ando to Renzo Piano. It celebrates each of these architect's vision and innovation, as well as investigating the techniques, trends, and principles that have informed their work with wood. It examines the computer guided milling that has allowed for novel new forms, the responsible harvesting that allows wood to align with our environmental concerns, and, above all, wood's enduring appeal to our senses and our psyche, comforting hectic modern lives with a sense of Arcadian beauty and simplicity. Text in English, French, and German ...Show more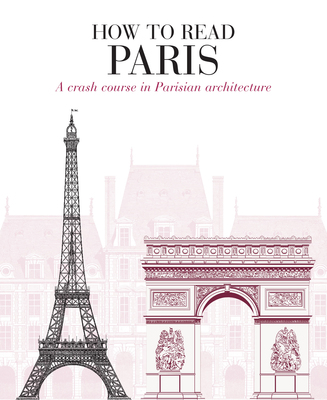 $19.99
AUD
Category: Architecture & Design | Series: How to Read Ser.
How to Read Paris is a pocket-sized guide to understanding and appreciating the architecture of Paris. Packed with detailed drawings, plans and photographs, and covering squares, bridges, streets and monuments as well as buildings, it is both a fascinating architectural history and an effective I-spy gu ide - a must-read for anyone with an interest in this fascinating and beautiful city. Compact enough to carry in your pocket yet serious enough to impart a real understanding, this handy reference guide. ...Show more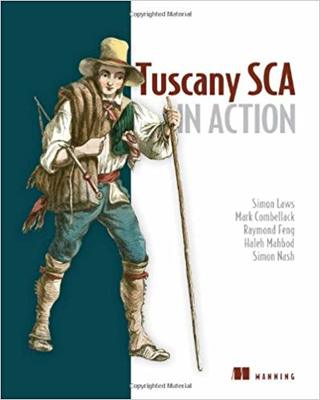 Tuscany in Action
by Simon Laws; Mark Combellack; Raymond Feng; Haleh Mahbod; Simon Nash
$80.95
AUD
Category: Architecture & Design | Series: Manning Pubs Co Ser.
Apache Tuscany is a free, open source project that helps users develop Service Oriented Architecture (SOA) solutions. It provides a lightweight infrastructure that implements Service Component Architecture (SCA) and provides seamless integration with other technologies. "Tuscany in Action" is a compreh ensive, hands-on guide for developing enterprise applications using Apache Tuscany's lightweight SCA infrastructure. The book uses practical examples to demonstrate how to develop applications with the open source Tuscany SCA. Readers will learn how to model, compose, and manage applications. Detailed explanations of how to use the various features of Apache Tuscany for protocol handling and developing components are presented. Readers will also learn how to extend Apache Tuscany to support new programming environments and communication protocols. Purchase of the print book comes with an offer of a free PDF, ePub, and Kindle eBook from Manning. Also available is all code from the book. ...Show more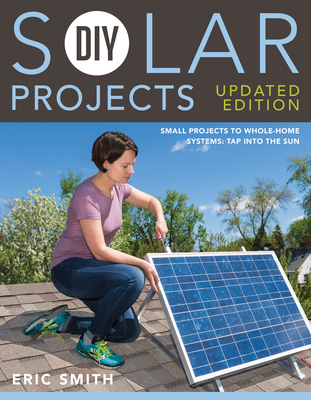 $29.99
AUD
Category: Architecture & Design
Learn how to make your own solar-powered appliances and additions to your home with the step-by-step instructions you'll find in this updated edition of DIY Solar Projects Put the sun to work in your home with the new, expanded edition of the popular 2011 title DIY Solar Projects. Like the original, th is edition offers small-scale, achievable solar projects that homeowners can build and install themselves. From cooking in solar ovens, to mounting solar panels on your roof, this book teaches how to take advantage of solar energy. It's all possible with relatively small investments and minimal DIY building experience. You'll learn how to make: Tool trailer with available AC-power (directly from the sun) Solar systems for marine crafts Solar-powered security light Solar water heater Solar hot-air collector window mount Solar lumber kiln Solar battery charging station With clear instructions, tips, and step-by-step color photos for each project, this book takes the intimidation out of DIY solar builds. For those with more ambitious solar power plans, this updated edition contains information on outfitting your home with solar electricity collection systems and integrating them into your primary power supply system. Excitement about home solar energy is exploding, and DIY Solar Projects: Updated Edition sheds light on how you can get involved immediately. This book also offers an extensive resource guide with links to tax-reducing, subsidy, and support programs on both a national and state-by-state level. With high energy costs and an environment that demands cleaner fuel sources, now is the time to introduce new, cost-saving solar projects into your home. ...Show more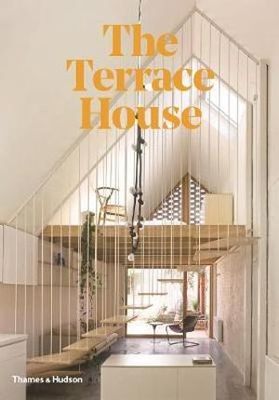 The Terrace House
by Cameron Bruhn Cameron Bruhn and Katelin
$45.00
AUD
Category: Architecture & Design
With British precedents and working-class origins, the terrace house has a story of remarkable resilience.Today it is highly sought-after for its nostalgic charm and inner-city locale. A new generation of homeowners is making their mark by working with architects and designers to reimagine the terrace h ouse for a twenty-first-century lifestyle. From subtle refinements to bold geometric forms, alterations and additions are often hidden from the street creating a sense of intrigue about what lies behind, above or beyond the romantic facade. This collection of homes celebrates the incredible history and enduring appeal of these well-loved buildings. ...Show more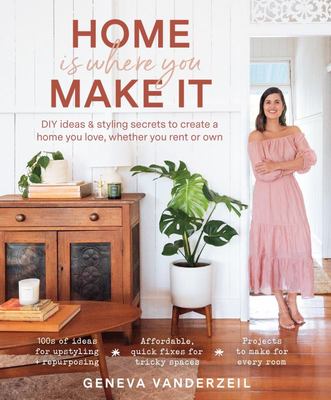 $35.00
AUD
Category: Architecture & Design
Add style and individuality to your home with DIY, even when you're renting. Home Is Where You Make It channels the simplicity and beauty of modern living. This is your room-by-room guide to making and DIYing your own place, with hundreds of clever styling hacks, repurposing and upstyling ideas, and eas y weekend projects to create the home of your dreams. ...Show more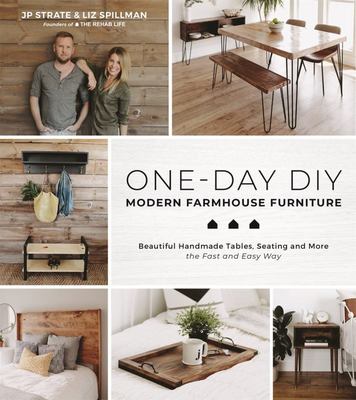 $34.99
AUD
Category: Architecture & Design
Fast Weekend Projects for an Upscale, Rustic Home In their debut book, JP Strate and Liz Spillman, creators of the popular DIY YouTube channel The Rehab Life, bring over 20 new beginner-friendly furniture projects to your home. Their distinctive style pairs clean, contemporary designs with natural wood and warm stains to give your space that urban farmhouse look. There's no need for prior woodworking experience or a garage full of fancy tools. It's easy to dive right in, with minimal materials, foolproof instructions and gorgeous results. Each project is so quick to complete, you won't be able to stop until your entire home is transformed into a chic, cozy haven. In just 24 hours, you could be sitting at your very own handmade Hairpin Leg Dining Table, waking up to your Dreamy Headboard or selecting a bottle from your classy Napa Valley Wine Rack. Unlock a whole new world of home decor possibilities, free from high-end price tags and cookie-cutter furnishings, while discovering a woodworking skill you didn't know you had. You'll be showing off your timeless custom furniture for years to come ...Show more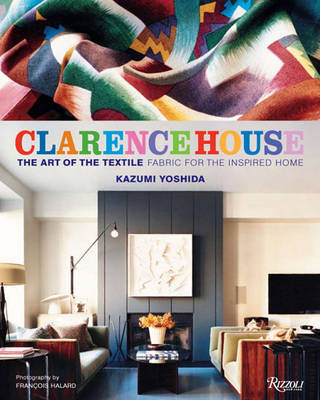 $85.00
AUD
Category: Architecture & Design
This lavish book presents the distinguished fabrics of Clarence House, one of the world's most renowned textile houses, with inspiring applications for interiors. For the past fifty years Clarence House, founded by Robin Roberts in 1961, has been infusing the textile industry with luxurious and inventiv e fabrics. From Mark Hampton to Robert Couturier to Charlotte Moss, interior designers have long relied on the firm's superb fabrics to add just the right note to their decorating schemes. This book presents some of the most imaginative textiles available today and provides an array of inspirational fabric applications and ingenious choices for upholstering furniture, creating dreamy window treatments, and adding finishing touches such as tassels and other trims. The heart of the book, however, illuminates Kazumi Yoshida's creative process and his ideas for use of fabrics in the home. Whether he is interpreting historical documents or drawing in the studio he is always concocting modernist abstractions, contemporary prints, or new interpretations of eighteenth-century patterns. ...Show more
$49.99
AUD
Category: Architecture & Design
Like many Brits, Dick and Angel had long dreamed of living in France, but where others might settle for a modest bolthole in the French countryside, the Strawbridges fell in love with a 19th-century fairytale chateau, complete with 45 rooms, seven outbuildings, 12 acres of land and its own moat. Throwi ng caution to the wind, Dick and Angel swapped their two-bedroom flat in East London for an abandoned and derelict castle in the heart of the Loire valley and embarked on the adventure of a lifetime with their two young children Arthur and Dorothy. Sharing their full journey for the first time, A Year at the Chateau follows Dick and Angel from when they first moved to France in the depths of winter and found bedrooms infested with flies, turrets inhabited by bats, the wind rattling through cracked windows, and just one working toilet, which flushed into the moat, through to the monumental efforts that went into readying the chateau for their unforgettable wedding and their incredibly special first Christmas. Along the way we'll read glorious descriptions of rural life in France, with charming characters, delicious food and wonderful seasonal produce, together with the extraordinary list of renovations and restorations Dick and Angel completed, many of which were not shown on TV. As warm and entertaining as their much-loved show, A Year at the Chateau is a truly irresistible story of adventure and heart, epic ambitions and a huge amount of hard graft. ...Show more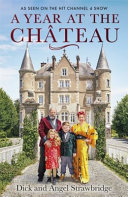 $32.99
AUD
Category: Architecture & Design
Like many couples, Dick and Angel had long dreamed of living in France, but where others might settle for a modest bolthole in the French countryside, the Strawbridges fell in love with a 19th-century fairytale chateau, complete with 45 rooms, seven outbuildings, 12 acres of land and its own moat. Thro wing caution to the wind, Dick and Angel swapped their two-bedroom flat in East London for an abandoned and derelict castle in the heart of the Loire valley and embarked on the adventure of a lifetime with their two young children Arthur and Dorothy. Sharing their full journey for the first time, A Year at the Chateau follows Dick and Angel from when they first moved to France in the depths of winter and found bedrooms infested with flies, turrets inhabited by bats, the wind rattling through cracked windows, and just one working toilet, which flushed into the moat, through to the monumental efforts that went into readying the chateau for their unforgettable wedding and their incredibly special first Christmas. Along the way we'll read glorious descriptions of rural life in France, with charming characters, delicious food and wonderful seasonal produce, together with the extraordinary list of renovations and restorations Dick and Angel completed, many of which were never shown on TV. As warm and entertaining as their much-loved show, A Year at the Chateau is a truly irresistible story of adventure and heart, epic ambitions and a huge amount of hard graft. ...Show more