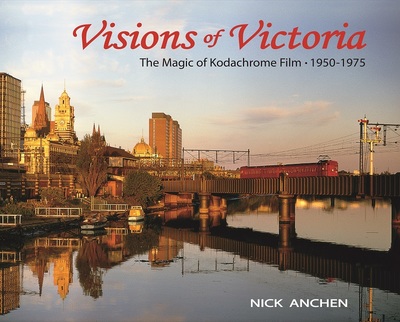 $69.99
AUD
Category: Coffee Table Books
Melbourne underwent great changes in the decades following World War II, with rapid population growth and mass migration during the 1950s and '60s forever altering the face of the city. Despite the changes, Melbourne in this period was often considered to be idyllic, with an ease of life, and a strong sporting and social culture. Kodachrome 35 mm film became commercially available in Australia in the early 1950s, and with its vibrant colours and grainless quality, it rapidly became the film of choice for many photographers. Melbourne, with its wide, tree-lined streets and fabulous 1880s architecture, was a natural subject for photographers of the period. So too were regional cities such as Ballarat and Bendigo, along with many of the state's attractive country towns and picturesque rural landscapes. Visions of Victoria is a journey back in time to a very different place with red trains and green trams, Moomba parades, FJ Holdens and men wearing hats viewed through the wonders of Kodachrome, the world's most beautiful film. Features: The Kodachrome Story, Melbourne Street Scenes Melbourne's Architecture 1954 Royal Visit 1956 Olympic Games Flinders Street station Melbourne Cricket Ground The 1972 Melbourne Flood Moomba parades Melbourne Suburbs, Ballarat, Bendigo and Country Victoria Plus features on Melbourne's railways, tramways, shipping and aviation A journey back in time to a very different Victoria viewed in majestic living colour through the wonders of Kodachrome, the world's most beautiful film. ...Show more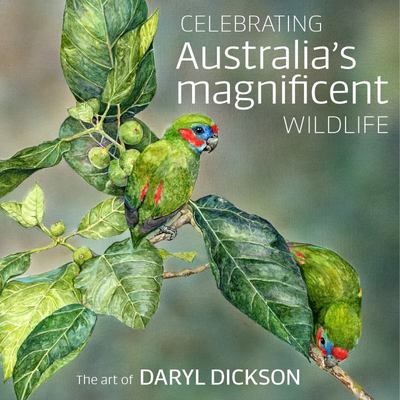 $55.00
AUD
Category: Coffee Table Books
Celebrating Australia's Magnificent Wildlife is a celebration of Daryl Dickson's beautiful work, informed by her passion for the conservation of wildlife and wild places. From black-winged stilts to brushtail possums, see the variety and colour of Australian wildlife contained in one wonderful book. She highlights the natural beauty of species that deserve to be saved in what is essential reading for anyone with an interest in the natural world. The work of artists crosses borders, boundaries and language barriers. Painting wildlife does not need language to explain the essence of the beauty, landscape or movement of a creature. This book can be understood and enjoyed by people of any nationality. Witness the ancient tropical forests and majestic landscapes of northern Queensland, Australia -- home to some of the world's rarest and most fascinating species. Dickson's work is inspired by the incredible diversity of flora and fauna she lives amongst, which are rich and colourful in the diverse, thriving valley she calls home. Dickson's techniques have varied in medium, from illustration to watercolour and many in between, but nature has always been the key element of her art. View a lifetime of artworks and share in her journey to becoming an artist, showcased in this large-format, beautifully designed book that is an essential addition to coffee tables everywhere. ...Show more
The Mallee: A Journey Through North-West Victoria (HB)
by Adam McNicol (Text by, Photographer); Erin Jonasson (Photographer); Phil Campbell (Designed by, Photographer); Andrew Chapman (Photographer); Noel Butcher (Photographer); Melanie Dove (Photographer); Heather Ewart (Foreword by); Jaime Murcia (Photographer)
$59.99
AUD
Category: Coffee Table Books
Between 1880 and 1930, a series of schemes brought thousands of settlers to Victoria's Mallee region. At the same time, a number of railway lines were constructed through the area, with towns constructed approximately every 10 miles. Now, almost a century after the settlement schemes ended and the depop ulation of the Mallee began, a team of Australia's best rural documentary photographers, along with writer Adam McNicol, who grew up in the Mallee town of Manangatang, retrace the railway lines to see what remains. The result is a stunning photo book, containing over 150 full colour images. 'The Mallee: A journey through north-west Victoria' is a portrait and celebration of the small communities that dot north- west Victoria and the people who call them home. The book, which has a foreword by 'Backroads' presenter Heather Ewart, captures life in the small towns of the Mallee and on the farms that surround them. One particular focus is the growing interest in the area from tourists, who in recent years have flocked to the Silo Art Trail and Lake Tyrrell, breathing new life into a region becoming famous for its brilliant sunsets and hospitable locals. ...Show more
$39.99
AUD
Category: Coffee Table Books
From lap pools to ocean pools, harbour pools to waterfalls, Sydney is arguably the best major city in Australia for swimming, if not the world! And Places We Swim in Sydney covers the very best of the city's famous and hidden swimming spots. After the success of their first book, Places We Swim, author s Caroline Clements and Dillon Seitchik-Reardon have followed up with a deep dive into Sydney in this ultimate city guide to the aqueous outdoors. Places We Swim in Sydney is divided into six city regions, encompassing walks and swims within two hours of the CBD - from Manly in the north, to Maroubra in the east, Royal National Park in the south, and out to the Blue Mountains in the west. You'll discover just what makes each swimming spot unique, learn the best time to go, gain some useful local knowledge and find out the most delicious things to eat nearby. With destinations ranging from neighbourhood city pools to gorges that feel like the outback, Places We Swim in Sydney is a celebration of not just these magnificent swimming locations, but of the diverse landscapes and water-loving communities that make up Sydney.   ...Show more
Humans
by Brandon Stanton
$44.99
AUD
Category: Coffee Table Books | Series: Humans of New York
Brandon Stanton's Humans is a book that connects readers as global citizens at a time when erecting more borders is the order of the day. It shows us the entire world, one story at a time. After five years of travelling the globe, the creator of Humans of New York brings people from all parts of the wor ld into a conversation with readers. He ignores borders, chronicles lives and shows us the faces of the world as he saw them. His travels took him from London, Paris and Rome to Iraq, Dubai, Ukraine, Pakistan, Jordan, Uganda, Vietnam, Israel and every other place in between. His interviews go deeper than before. His chronicling of peoples' lives shows the experience of a writer who has traveled widely and thought deeply about the state of our world. Including hundreds of photos and stories of the people he met and talked with in over forty countries, Humans is classic Brandon Stanton - a brilliant illustrated book that includes many photos and stories never seen before. For the first time for a Humans of New York title, Humans will contain several of the essays Brandon's posted online which have been read, loved and enthusiastically shared by his followers. ...Show more
$49.99
AUD
Category: Coffee Table Books
A photographic documentary of the wool industry across Australia and New Zealand, featuring the work of renowned photographer Andrew Chapman.
$35.00
AUD
Category: Coffee Table Books
From the photographer behind Westography and Suburbia. The past doesn't disappear. It leaves its traces everywhere. - Christos Tsiolkas From West Brunswick to Reservoir, Fitzroy to Hadfield, Warren Kirk turns his keen eye upon the streets, buildings, and inhabitants of Melbourne's northern suburbs, wh ich are as iconic as they are rapidly changing. Both a tribute to the things we remember and a reminder to look anew at the world around us, the photos in Northside are a triumph of craft from an artist who invites us to really see. ...Show more
$80.00
AUD
Category: Coffee Table Books
The latest in the popular Life & Love Of series by Lewis Blackwell Showcasing the work of the world's leading nature photographers, The Life & Love of the Forest is a breathtaking visual tour of our most remarkable woodlands.   Author Lewis Blackwell takes us on an extraordinary journey with ess ays and deep captions that explore the science and incredible histories of everything from seedlings, thickets, and underbrush to the extraordinary trees themselves. Capturing the beauty of these vibrant, fascinating landscapes, this book celebrates the spectacular power of forests around the world.  ...Show more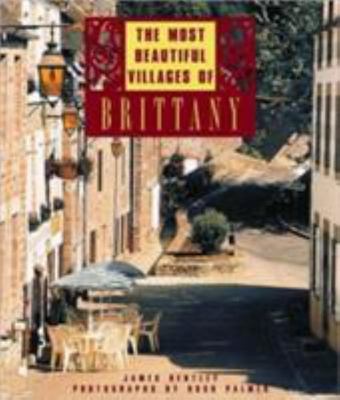 $30.00
AUD
$55.00
(45% off)
Category: Coffee Table Books | Series: The\Most Beautiful Villages Ser.
A visual and verbal account of 31 villages and islands in one of Europe's most popular tourist spots. The villages are drawn from the four departments of modern-day Brittany: Finistere, Morbihan, Ille-et-Vilaine and Cotes-d'Armor. Brittany is very distinct from the rest of France. It is a place of drama tic contrasts - a jagged coastline, fertile plains and wild moorland. Its people and culture are Celtic; legend has it that King Arthur and the Knights of the Round Table gathered in the Forest of Paimpont, and that Merlin is buried close by. Centuries of religious piety are enshrined in Breton architecture. Brittany's vigorous and varied village life and architecture are captured here in James Bentley's commentaries and Hugh Palmer's evocative photographs. Geography and geology have combined to make Brittany a land distinct from the rest of France. A place of dramatic contrasts, it occupies the great northwestern peninsula of the French landmass where a jagged coastline, fertile plains, and wild moorland lie beneath a sky by rapid turns sullen and sunny. A strong sense of separateness, reflected in the continuing strength of local village traditions, has remained a characteristic of the Bretons who, alone among the peoples of France, are Celts rather than Gauls. The architecture of the Breton villages is a testimony to centuries of religious piety: canaries and ossuaries abound, including remarkable Gothic examples like those at Rochefort-en-Terre in Morbihan. Josselin in the same department is home to a magnificent chateau with a Gothic inner facade generally hailed as a masterpiece of sculpture in granite. In Lehon, Cotes-du-Nord, you can stand and admire the ruined grandeur of its priory and chateau or, in Ille-et-Vilaine, explore the restored keep of Grand-Fougeray's thirteenth-century castle. The local houses are often built of granite, an ideal material for resisting the Atlantic winter storms. Though the ocean is sometimes a savage surround to the Breton peninsula, it also provides the seafood that makes any visit to the villages and small towns of Brittany a gastronomic delight. The sea yields succulent lobsters and langoustines, while the villages of the river estuaries enjoy mussels and oysters. Brittany's vigorous and varied village life and architecture are captured in james Bentley's perceptive commentaries and Hugh Palmer's stunning photographs. Complete with a traveler's guide, The Most Beautiful Villages of Brittany offers an evocative portrayal of the coastal and inland communities of this resilient land. First published September 1999. Hugh Palmer, a leading British photographer of gardens and architecture, has contributed to numerous books including "Garden Ornament", "The Formal Garden", "The Water Garden" and volumes on "Provence", "Tuscany", "Dordogne", "Greece and the Greek Islands", "Burgundy" and "England" in "The Most Beautiful Villages" series. James Bentley is the author of "The Penguin Guide to Tuscany", "The Loire", "Life and Food in the Dordogne", "The Languedoc", "The Penguin Guide to the Dordogne", "To Live in France" and "Tuscany", "Dordogne", "Burgundy" and "England" in "The Most Beautiful Villages" series. ...Show more
In Search of the South Pole
by Kari Herbert; Huw Lewis-Jones; Sir Ranulph Fiennes (Foreword by)
$19.95
AUD
Category: Coffee Table Books
In 1911 the world was watching, waiting, hoping, attention focused on a desolate spot at the very end of the earth, as two men raced to conquer the South Pole. A hundred years after Roald Amundsen's triumph and Robert Scott's tragic demise, our fascination with the Antarctic remains as acute as ever. On the centenary of their epic expeditions, this book traces our search for the South Pole, from the earliest encounters with Antarctica's icy waters, through the Heroic Age to modern times. In addition to the words of Scott and Amundsen, vivid descriptions from the logbooks, journals and narratives of pioneers such as Carsten Borchgrevink, Ernest Shackleton and Douglas Mawson provide first-hand experiences of this enigmatic and unforgiving region. In our own times, there is commentary from modern explorers and travellers, writers and scientists, who explain what the South Pole means to them. Among those featured are Edmund Hillary, Vivian Fuchs, Ranulph Fiennes and Borge Ousland. Stunning images by Herbert Ponting and Frank Hurley, and from the personal collections of explorers and adventure photographers, as well as contemporary ephemera and artefacts, illustrate the hardships of life on the ice. The authors have woven together the narrative of this enduring human quest with individual stories to place the Scott-Amundsen race in historical context and consider its legacy in the manhaulers, extreme skiers and adventure tourists of today. In the 21st century the South Pole remains an international stage for ambition and personal endeavour. For anyone who has felt the pull of this magnetic place - this is the book for you. ...Show more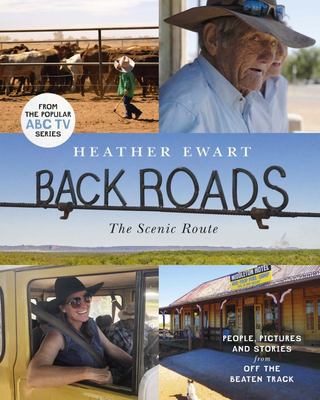 $39.99
AUD
Category: Coffee Table Books
From the ABC Back Roads team, Australia's inspiring rural communities in splendid, vivid colour During the five years it has been appearing on our screens, ABC TV's Back Roads has taken us across Australia, through scorched deserts, along sapphire coasts, up breathtaking mountains and over gentle, roll ing plains. It has shown us the rugged landscapes, the resilient communities and the extraordinary individuals who make a life in those areas outside the big cities. In this book, we capture in vivid colour some of our favourite people and places. Full of glorious photos that show us the spirit, purpose, difficulties and humour of outback life, this book is a tribute to the surprising characters, the rarely told stories and the sometimes beautiful, sometimes strange places that exist along the back roads of our extraordinary country. ...Show more