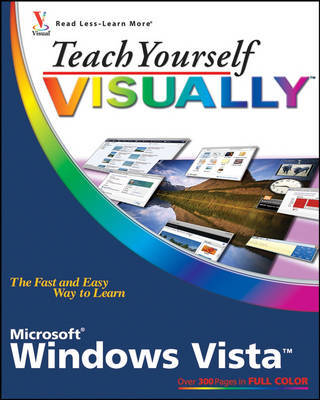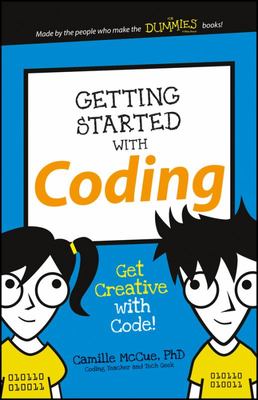 $14.95
AUD
Category: Computers | Series: Dummies Junior
A cool coding book just for kids! When your kid is ready to add coding to their creativity toolbox but you re not ready to ship them off to coding camp, Getting Started with Coding is here to help them get started with the basics of coding. It walks young readers through fun projects that were tested in the classroom. Each project has an end-goal to instill confidence and a sense of achievement in young coders. Steering clear of jargon and confusing terminology, Getting Started with Coding is written in a language your child can understand. Plus, the full-color design is heavy on eye-catching graphics and the format is focused on the steps to completing a project, making it approachable for any youngster with an interest in exploring the wonderful world of coding. So why send your kid to a camp when they can become a coding champ right in the comfort of your living room? * Introduces the basics of coding to create a drawing tool * Teaches how to create graphics and apply code to make them do things * Shows how to make things that respond to motion and collision commands * Introduces score-keeping and timing into coding If your child is a burgeoning techy with a desire to learn coding, Getting Started with Coding is the perfect place to start. ...Show more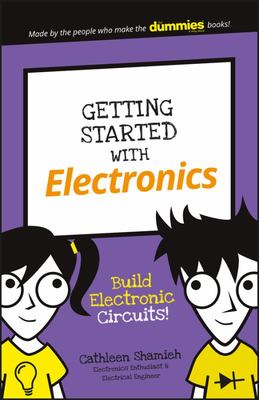 $14.95
AUD
Category: Computers | Series: Dummies Junior
Fun and engaging electronics projects just for kids! Do you have a cunning kid who's curious about what goes on inside computers, phones, TVs, and other electronic devices? You may just have a budding Edison on your hands and what better way to encourage their fascination with electronics than a book fi lled with projects they can complete on their own? In Getting Started with Electronics, your child will follow simple steps to safely create cool electronics projects using basic materials that can easily be found at online retailers or hobby shops. Just imagine your child's delight as they use clips, switches, resistors, capacitors, and more to create circuits that control light and sound! From building a nifty LED flashlight to tuning in to a local radio station using a homemade tuner and more your little electronic wiz's world is about to get a whole lot brighter! * Features vivid designs and a short page count * Focuses on your child experiencing a sense of accomplishment * Projects introduce core concepts while keeping tasks simple * Teaches electronics in a safe environment Built for the youngest of learners from the makers of the trusted For Dummies brand, you can feel good about giving your child a book that will spark their creativity. ...Show more
$15.95
AUD
Category: Computers | Series: Dummies Junior Ser.
Everything kids need to create and star in their own video YouTube has won the hearts, minds, and eyes of kids around the globe. Young people everywhere are making their mark on this popular platform--some of them even gaining massive followings, worldwide recognition, and the paychecks that come alon g with it. While lots of youngsters are happy to be spectators, others are hungry to create and star in YouTube content of their own--and this book shows them how. Written for kids in a language they can understand, this book helps budding filmmakers and producers create their own videos--no matter the subject. It offers creators the insight on how to plan and shoot quality videos, install and use video editing tools, and post the final product to YouTube. Apply tricks that pro filmmakers use for better shots, lighting, and sound
 Edit your video, add transitions, insert a soundtrack, and spice things up with effects
 Shoot and share your video gaming exploits Share finished videos with family, friends, and the world For any kid interested in joining the YouTube revolution, this book is the perfect place to start   ...Show more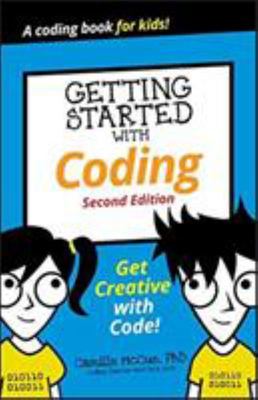 $15.95
AUD
Category: Computers | Series: Dummies Junior Ser.
An introduction to coding for kids Coding know-how is the coolest new tool kids can add to their creativity toolboxes--and all they need to get started is a computer connected to the internet and the lessons in this book. Easy The book offers fun step-by-step projects to create games, animations, and other digital toys while teaching a bit about coding along the way. Plus, each project has an end goal to instill confidence and a sense of accomplishment in young coders once the project comes to life. Create simple applications in Scratch to learn how to build things with coding Experiment with "real" coding with tools built in JavaScript Use free online tools Share what you build with friends, family, and teachers Get creative and get coding   ...Show more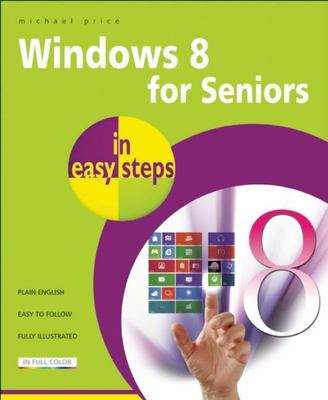 $24.95
AUD
Category: Computers | Series: In Easy Steps Ser.
Windows 8 is Microsoft's latest update to Windows and is designed for a range of hardware, from light-weight laptops to large, powerful desktop computers with high-definition screens. Its new features are: The option of switching between multi-touch display capabilities or keyboard and mouse. The new Wi ndows 8 interface gives instant access to contacts, applications and data. However, you can still access Windows applications using the desktop, taskbar, task manager and search facilities which replace the Start menu featured in previous versions of Windows. Access to your Windows 8 system using a local account or an online account, and the ability to extend its facilities through the Microsoft Store or using Windows Downloads. Windows 8 for Seniors in easy steps introduces the features of the most current Windows operating system, presented with the over-50's in mind using larger type, in the familiar In Easy Steps style. ...Show more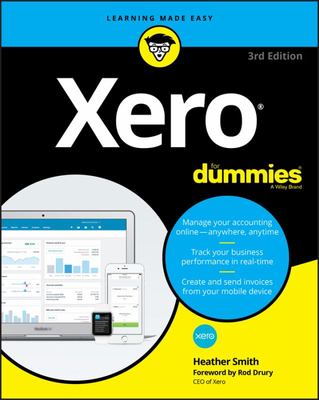 Xero for Dummies
by Heather Smith; Rod Drury (Foreword by)
$39.95
AUD
Category: Computers
Take your books to the cloud with the ultimate guide to Xero Xero For Dummies is your one-stop resource for working with this revolutionary accounting software. Whether you're brand new to Xero or converting from another program, you'll get up and running in a flash; if you're already using Xero, this book will show you how to take advantage of the software's full functionality. Easy to use and deceptively powerful, Xero is so much more than a spreadsheet &ndash it can help you streamline reporting; manage inventory; simplify accounts; and organise suppliers, customers and more. Automatic imports, intuitive coding and seamless synching across multiple business platforms gets the paperwork done quickly so you can get back to running your business. This new third edition includes coverage of the newest features, including updates on payroll, purchase orders, reporting and inventory so you can optimise your system to help your business thrive. Xero's cloud-based single-ledger accounting system is user-friendly and efficient, but expert guidance will help you get the absolute most out of the software's features and functionality. This book shows you every nook and cranny, with screenshots and best practices, so you can let Xero handle the books while you focus on running your business. Fine-tune your set-up, or convert from another accounting program Manage daily activities with contacts, accounts, sales and payables Master weekly and monthly reporting routines Track inventory, monitor your business and get the most out of Xero You didn't start your business in order to become an accountant, but bookkeeping is critically important to the short- and long-term health of your company. Xero simplifies the process and saves you time, and Xero For Dummies helps you leverage every feature Xero has to offer.In addition to the book, visit www.dummies.com/go/xerofd3e for an online-only appendix you can download for free, which gives you all the info you need to master your payrun. ...Show more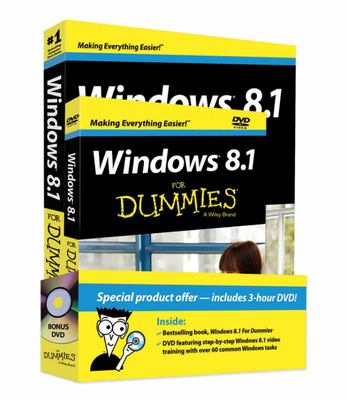 $39.99
AUD
Category: Computers
A smart value -- the complete book plus three hours of video training! Windows 8.1 brings some welcome tweaks to the Windows operating system, including more ways to customize the interface and boot operations, a new start button that reveals apps, greater integration between the two interfaces, and app updates. This bargain bundle includes the complete Windows 8.1 For Dummies book plus a DVD that walks you visually through the most common Windows tasks. Whether you're just getting started with Windows or are upgrading to 8.1, you can learn everything you need to know, see how things are done, and start using Windows 8.1 with confidence. Includes the complete Windows 8.1 For Dummies plus three hours of video training on DVD Covers all the upgrades that make up Window 8.1, including new opportunities to customize the interface, the new start button, and greater integration between the two interface options Features complete information on using a Windows computer for those new to the system The DVD provides basic overviews and step-by-step instruction covering the essentials of Windows 8.1 , such as getting started, using the start screen and the desktop, getting things done online, managing photos, playing music, customizing Windows, and much more Windows 8.1 For Dummies Book + DVD Bundle is a value-priced crash course for anyone wanting to understand and use Windows 8.1. ...Show more
$46.95
AUD
Category: Computers
The bestselling Excel book on the market -- now in a new edition covering the latest version of Excel Excel is the spreadsheet and data analysis tool of choice for people across the globe who utilize the Microsoft Office suite to make their work and personal lives easier. It is estimated that 1 in 7 p eople on the planet use Microsoft Office If you're one of them, and want to get up to speed on the latest changes in Excel, you've come to the right place. Excel 2019 For Dummies has been updated to reflect the major changes and features made to Excel and covers everything you need to know to perform any spreadsheet task at hand. It includes information on creating and editing worksheets, formatting cells, entering formulas, creating and editing charts, inserting graphs, designing database forms, adding database records, using seek-and-find options, printing, adding hyperlinks to worksheets, saving worksheets as web pages, adding existing worksheet data to an existing webpage, pivot tables, pivot charts, formulas and functions, Excel data analysis, sending worksheets via e-mail, and so much more Get to know the new Excel interface Become a pro at the spreadsheet and data analysis tool that's available as part of the Microsoft Office suite Find time-tested and trusted advice from bestselling author and expert Greg Harvey Use Excel to streamline your processes and make your work life easier than ever before Written by a bestselling author and seasoned educator, Excel 2019 For Dummies makes it easier than ever to get everything out of this powerful data tool. ...Show more
$35.95
AUD
Category: Computers
Explore a world of possibilities with your Samsung Galaxy S 4 smartphone Everything's more exciting when you've got the Galaxy in your hand. Let For Dummies be your guide to getting the most out of your Galaxy S 4. You'll cruise through the smartphone basics and set up process before moving on to the fun stuff like staying in touch with e-mail and texting, surfing the web, navigating with maps, shooting and sharing photos and video, watching movies, listening to music, and so much more. Whether you're entering the smartphone world for the first time or just moving up to the Galaxy S 4, you'll stay on course with this one-of-a-kind reference. Provides easy-to-understand advice to help you find your way around your Galaxy S 4 smartphone, get to know all the built-in features, and start making calls Explains the Galaxy S 4 features using full-color screenshots and images and step-by-step instructions on accessing the Internet, sending and receiving e-mail, texting, taking photos, recording videos, downloading apps, managing your calendar, and organizing your contacts Shows you easy ways to customize your Galaxy S 4 for your needs with cool apps and accessories You'll experience the world in a whole new way with this spectacular smartphone and Samsung Galaxy S 4 For Dummies by your side! ...Show more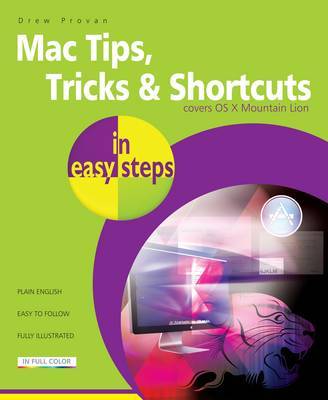 $24.95
AUD
Category: Computers
Windows 8 is Microsoft's latest update to Windows and is designed for a range of hardware, from light-weight laptops to large, powerful desktop computers with high-definition screens.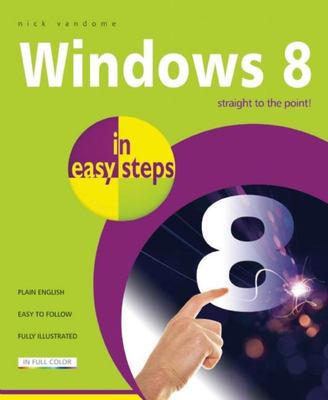 $24.95
AUD
Category: Computers
Windows 8 is the most revolutionary version yet of the popular operating system from Microsoft. With a brand new interface, new ways of getting around and accessing items and new possibilities for mobile devices, Windows 8 really does take the computing experience to the next level. But with Windows 8 I n Easy Steps you need not worry about being left behind and this book shows you everything you need to know to get up to speed with Windows 8. The book begins by showing how to get started with Windows 8 and get to grips with the new Windows 8 interface. It deals with the basics (everything you could do from the Start screen in previous versions), accessing items, arranging your screen and using additional controls that are available from the sides of the screen. A lot of the functionality of Windows 8 is aimed at touch screen devices, whether they are desktop computers, laptops or tablets. This is dealt with in depth, as well as showing how everything can still be done with a traditional mouse and keyboard. Apps are at the heart of Windows 8 and the new Windows Store has an app for almost everything you could want to do. The book shows how to access and download apps and then how to work with them, and organize them, when you have them. As well as the new features that are covered, all of the old favorites are looked at in detail, such as working with folders and files, accessing the Internet, using email and messaging, working with photos and video, networking with Windows and system security. Windows 8 will open your eyes to a new way of computing and Windows 8 In Easy Steps will help you see clearly so that you can quickly feel comfortable and confident with this exciting new operating system. ...Show more