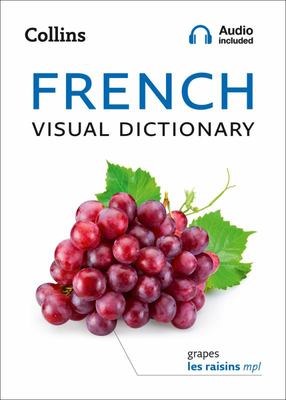 $14.99
AUD
Category: Languages | Series: Collins Visual Dictionaries Ser.
Immerse yourself in this photographic guide to the key words and phrases in French. This attractive book is perfect for travelling and provides a practical guide to French language and culture. Everyday words are arranged in themes with carefully selected up-to-date images to illustrate key words and ph rases, and a two-way index enabling you to find words quickly as you learn. All essential words and phrases for modern life in France are at your fingertips with topics covering home life, work and school environments, shopping, food and drink, sport and leisure, transport, technology, and the environment. Great care has been given to represent modern French culture and enhance your experience of France and its people, including food and drink, customs, celebrations, and festivals. Plus, download your free audio to hear native speakers pronounce each word and get your pronunciation pitch perfect, available from www.collins.co.uk/visualdictionary ...Show more
$70.00
AUD
Category: Languages | Series: Colloquial Ser.
Colloquial Malay is easy to use and completely essential. Specially written by experienced teachers for self-study or class use, the course offers you a step-by-step approach to written and spoken Malay. No prior knowledge of the language is required. What makes Colloquial Malay your best choice in pers onal language learning?* interactive - lots of dialogues and exercises for regular practice* clear - concise grammar notes* practical - useful vocabulary and pronunciation guide* complete - including answer key and special reference section By the end of this rewarding course you will be able to communicate confidently and effectively in a broad range of situations. ...Show more
$41.95
AUD
Category: Languages | Series: DUMMIES
Learn Latin American Spanish quickly and painlessly The job market for those who are bilingual is expanding rapidly. Businesses and government agencies are hiring translators; retailers and advertisers are concentrating more energy in targeting the Spanish-speaking; and hospitals and agencies are seekin g to overcome language barriers. Whether you re a student studying Spanish, a traveler gearing up for a trip to a Spanish-speaking country and need to learn the basics, or a upwardly mobile looking to get ahead of the pack in your career by learning a second language, Spanish For Dummies, 2nd edition is your hands-on guide to quickly and painlessly learn Latin American Spanish that includes: * Expanded coverage of grammar, verb conjugations, and pronunciations * A refreshed and expanded mini-dictionary complete with even more essential vocabulary, exercises, and more * A revamped and expanded bonus CD-ROM that includes real-life dialogue to aid in your learning Whether you re looking to learn Spanish for use in the home, class, at the office, or on the go, Spanish For Dummies, 2nd edition has you covered! ...Show more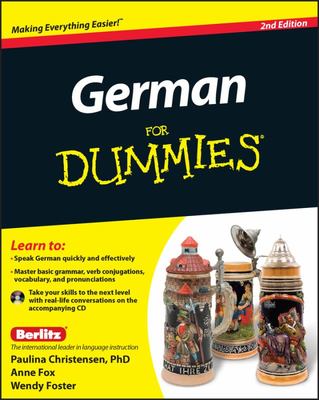 $38.95
AUD
Category: Languages | Series: DUMMIES
The fun and easy way to learn the fascinating language of German with integrated audio clips! German For Dummies, Enhanced Edition uses the renowned Berlitz approach to get you up and running with the language-and having fun too! Designed for the total beginner, this guide introduces you to basic gramma r and then speedily has you making conversation. Integrated audio clips let you listen and learn as you hear pronunciations and real-life conversations. Fun and games sections ease your way into German fluency, phonetic spellings following expressions and vocabulary improve your pronunciation, and helpful boxes and sidebars cover cultural quirks and factoids. Master the nuts and bolts of German grammar Learn phrases that make you sound German-and know what never to say in German Whether you're just looking for a greeting besides "Guten tag" or you want to become a foreign exchange student, this enhanced edition of German For Dummies gives you what you need to learn the language-as much as you like, as fast as you like! ...Show more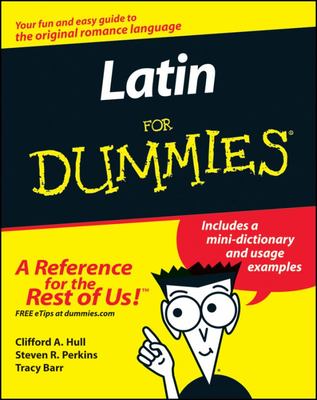 $32.95
AUD
Category: Languages | Series: For dummies
Earn-lay atin-Lay? No, not that kind of Latin! You can learn true Latin, with conjugations, declensions, and all those extra syllables -- and it's easier than you think. In fact, most people mistakenly think of learning Latin as perhaps the most useless, tedious, and difficult thing to do on earth. They couldn't be more wrong. Latin For Dummies takes you back for a quick jaunt through the parlance of ancient Rome, as well as discussing the progress of Latin into church language, and its status today as the "dead" language that lives on in English, Spanish, Italian, and most other Western tongues. Written for those with zero prior knowledge of Latin, this snappy guide puts the basics at your fingertips and steers clear of the arcane, schoolmarm stereotype of endless declensions and Herculean translations. Easy-to-understand sections describe: * Latin you already know * Grammar * Pronunciation * Latin in action * Latin in law * Latin in medicine * Latin for impressing your friends * And much more No dusty tome or other such artifact, Latin For Dummies makes learning fun and brings the language to life by presenting conversations in various Roman settings, as well as providing fun facts and stories about classical life. And if you feel you may actually have a negative aptitude for the language, don't worry; pronunciations and translations follow every expression, and a helpful mini-dictionary graces the book's last pages. You'll also find out about: * The quotable Roman * Latin graffiti * Latin authors who's who * Gladiator Latin * Latin in love, marriage, and family * From the mouth of Julius Caesar * Romans on drink * Helpful Latin-related Web sites * Fun and games exercises Designed to introduce and familiarize you with the language rather than make you the next Cicero, Latin For Dummies gives you all the tools you need to work at your own pace to learn as much or as little as you like. So noli timere (no-lee tih-may-reh) -- "have no fear" -- and carpe diem ("pick up Latin For Dummies today")! ...Show more
$41.95
AUD
Category: Languages
The fast and easy way to learn to speak Mandarin Chinese China has become a major influence in the world today, andMandarin Chinese is the world's most widely spoken language. Notonly is China full of opportunities in business and politics, butChinese culture, continues to make its way into the western world. With an updated CD including real-life conversations, ChineseFor Dummies expands grammar, verb conjugations, andpronunciations--and includes a refreshed mini-dictionarycomplete with even more essential vocabulary. Basic vocabulary Everyday conversations, including phone dialogue and smalltalk Speaking in perfect pitch and tone Easy-to-understand grammar rules Getting around in a Chinese-speaking country Cultural references like maintaining face, dining etiquette,and social mores Also included is an audio CD that features actual Chineseconversations by native Chinese speakers, which allows you to hearhow Chinese is really spoken. Written by a leading Chinese languageteacher in the United States, Chinese for Dummies introducesan often-daunting language to you in a fun-and-easy For Dummiesmanner. CD-ROM/DVD and other supplementary materials are not included aspart of the e-book file, but are available for download afterpurchase. ...Show more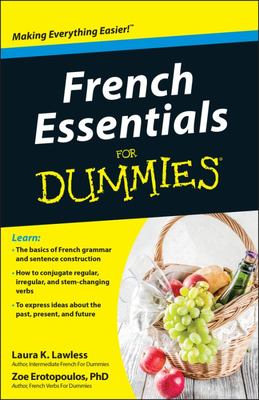 $16.95
AUD
Category: Languages
Just the core concepts you need to write and speak French correctly If you have some knowledge of French and want to polish your skills, French Essentials For Dummies focuses on just the core concepts you need to communicate effectively. From conjugating verbs to understanding tenses, this easy-to-follo w guide lets you skip the suffering and score high at exam time. French 101 - get the lowdown on the basics, from expressing dates and times to identifying parts of speech Gender matters - see how a noun's gender determines the articles, adjectives, and pronouns you have to use The here and now - learn how to conjugate verbs in the present tense, choose subject pronouns, and form the present participle Way back when - get guidance on working with the past tense, including hints about when to use the compound past (passe compose) and when to use the imperfect What lies ahead - discover the different ways to express the future Open the book and find: A review of numbers, dates, and times The parts of speech How to determine a noun's gender How to select the correct preposition Rules for making adjectives agree Tips for asking and answering yes/no questions Ways to spice up your descriptions Ten important verb distinctions Learn: The basics of French grammar and sentence construction How to conjugate regular, irregular, and stem-changing verbs To express ideas about the past, present, and future ...Show more
$12.95
AUD
Category: Languages
Learning a new language is a fun and challenging feat for students at every level. Perfect for those just starting out or returning to Spanish after time away, Spanish Essentials For Dummies focuses on core concepts taught (and tested on!) in a typical introductory Spanish course. From adjectives and ad verbs to understanding tenses and asking questions, students will skip the suffering and score high marks at exam time with the help of Spanish Essentials For Dummies. This guide is also a perfect reference for parents who need to review critical Spanish concepts as they help students with homework assignments, as well as for adult learners headed back to the classroom who just want to be brush up on the core concepts. The Essentials For Dummies Series Dummies is proud to present our new series, The Essentials For Dummies. Now students who are prepping for exams, preparing to study new material, or who just need a refresher can have a concise, easy-to-understand review guide that covers an entire course by concentrating solely on the most important concepts. From algebra and chemistry to grammar and Spanish, our expert authors focus on the skills students most need to succeed in a subject.About the author:Gail Stein, MA, was a foreign language instructor for more than 30 years and wrote Intermediate Spanish For Dummies. Cecie Kraynak, MA, is a Spanish teacher and authored Spanish Verbs For Dummies. ...Show more
$57.95
AUD
Category: Languages
Your comprehensive guide to speaking, reading, and writing in French French is a beautiful language but can be quite difficult to learn. Whether you need to learn the language for a French class, or for business or leisure travel, French for Dummies All-In-One makes it easier. With nearly 800 pages, Fre nch All-in-One For Dummies is for those readers looking for a comprehensive guide to help them immerse themselves in the French language. Culls vital information from several Dummies titles, offering you a comprehensive, all-encompassing guide to speaking and using French Includes French Canadian content and enhanced practiced opportunities Its accompanying audio CD provides you with en effective tool to start speaking French right away Both new students of French and experienced speakers can benefit from the wealth of information that has been included in French All-in-One For Dummies. CD-ROM/DVD and other supplementary materials are not included as part of the e-book file, but are available for download after purchase. ...Show more
$38.95
AUD
Category: Languages
The fast, informal way to learn to speak French - with integrated audio clips throughout. Listen to pronunciations and conversations. French is a beautiful language but quite difficult to learn. Whether you need to learn the language for a French class, or you travel overseas for business or leisure, th is enhanced edition of French for Dummies can help. Written in an easy-to-follow format, with integrated audio clips, it gives you just what you need for basic communication in French. The enhanced edition includes: Expanded coverage of necessary grammar, vocabulary, and pronunciations Useful exercises, practice questions, and a mini-dictionary Business, an upcoming class, travel - whatever your reason for wanting to learn a new language but don't have time to take a class, this enhanced edition of French For Dummies can get you well on your way to becoming fluent in no time! ...Show more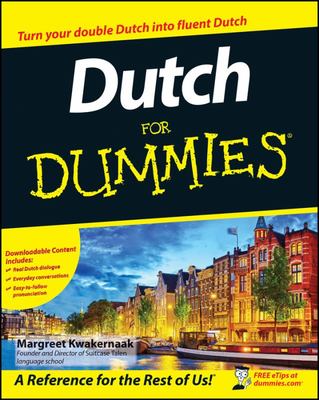 $36.95
AUD
Category: Languages
Dutch is spoken by 23 million people, mainly in the Netherlands and Belgium, and is an official EU language. For English speakers, written Dutch can be fairly straightforward to pick up, although the pronunciation can be more of a challenge. This simple guidebook and audio CD covers Dutch grammar, pronu nciation and everyday phrases, making this vibrant language more accessible to English speakers - whether you're just visiting or planning to stay on a long-term basis. Dutch For Dummies is the essential guide for everyone from students and holidaymakers, to those wanting to speak Dutch for business purposes. From numbers and vocabulary to greetings, popular expressions and proper etiquette, this clear, easy-to-follow guide will have you speaking Dutch like a native in no time. Dutch For Dummies includes:* Audio CD to assist learning* Introductory grammar and vocabulary* Meeting and getting to know people* Dining out, shopping, leisure time and the workplace* Dealing with emergencies* Tips on how to pick up Dutch quickly ...Show more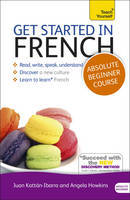 $37.99
AUD
Category: Languages
If you are an absolute beginner or simply looking for a solid foundation to your language studies for school, work or travel, this engaging course will help get you on your way to speaking, writing, reading and understanding French in no time. Through an engaging story line, clear language presentations , and extensive practice and review, you will pick up the French you need to communicate naturally in everyday situations - from shopping and travelling to food and daily life. Engaging with our interactive Discovery Method, you'll absorb language rules faster, remember what you learn easily, and put your French into use with confidence. Get Started in Beginner's French has a learner-centered approach that incorporates the following features: Outcomes-based approach - focus your learning with clear goals Discovery method -- figure out rules and patterns for yourself to aid in understanding and language recall 10 easy-to navigate units + review units - be in control of your learning. Self-check and Test Yourself - see and assess your own progress Personalization - use the language in real situations ...Show more